Fantasy EPL managers have a unique buying opportunity once the break ends. There is more bad news coming from St. James with Haris Vuckic being ruled out for the rest of the season with ligament damage in his knee:
Newcastle United midfielder Haris Vuckic will be sidelined for the remainder of the season after rupturing his cruciate ligament in his left knee. The 20-year-old was stretchered off while playing for the Magpies' Under 21 side at Aston Villa on Monday night, following a tackle by Samir Carruthers. And having been assessed by the Club's medical staff it has been confirmed that Vuckic will not play again during the 2012/13 campaign.
Vuckic, you may know, has not featured in the BPL yet this season. However, his injury further limits the depth available to gaffer Alan Pardew as the Magpies look to recapture the 2011-12 form that kept them among the title contenders. The injury to Vuckic  is compounded by another midfield injury:
Meanwhile it was a double injury blow for United at Villa Park, with fellow midfielder Dan Gosling also stretchered off. And the former Everton man has been ruled out for a number of weeks after damaging ligaments in his right ankle.
You may be asking why we're covering midfielder injuries, and not particularly key fantasy EPL players at that, in a defenders breakdown. The answer is simply that they have continued a season-long trend of players turning up with crucial, critical and often season-ending injuries. Pardew will be forced to use first-choice players is using whomever he is able to fill in around the pitch with the only remaining depth existing up front where Demba Ba and Papiss Cisse are both reportedly healthy. At least three FPL-rated midfielders — Jonas Gutierrez, Vurnon Anita and Gael Bigirimana — have been used in the back line already this season.  With the all of the injury concern, Newcastle does have a bit of good news:
United defender Steven Taylor will resume full training next week having recovered from a calf injury, and has targeted the derby clash with Sunderland to make his timely comeback. But after ten days of early starts and plenty of strength and conditioning work, the 26-year-old is on the brink of returning in time for the Tyne-Wear derby a week on Sunday.
Taylor had played every minute of the season until he departed after 55′ in the 2-2 draw with Reading September 29. Defender James Perch has featured extensively in the Magpies starting XI this season and recently spoke about stopping once again for another International break:
Defender James Perch has been left with mixed feelings as the Magpies head into another international break. Perch has started 10 of Newcastle's 12 games this season and readily admits he is in need of some brief respite following a grueling opening spell which has included seven fixtures in the last 21 days. "Fingers crossed on the internationals that while they are away they don't come back with any niggles or knocks because we want a fully fit squad again to go to Sunderland and hopefully turn them over," Perch told nufc.co.uk.
The break could be the last vestige of hope for Fabricio Coloccini as the Magpies captain has not featured in the Barclays Premier League since 1-1 home draw with Aston Villa in gameweek three. The Argentine suffered injury during the last break and has had nothing but set-backs since. Newcastle do have a cluttered fixture list once they return. With 10 fixtures between October 21 and the end of November there will be ample opportunity for new injuries to surface.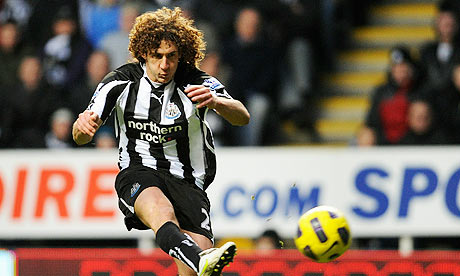 For purposes of this post we only deal with the seven Premier League fixtures and the run could not be better for generating cleansheets. Newcastle runs: Sunderland(a), WBA(h), Liverpool(a), West Ham(h), Swansea(h), Southampton(a), Stoke(a). Presuming that both Steven Taylor and Fabricio Coloccini are back fit and starting, the two defenders provide decent value priced £5.0. Fantasy EPL managers have not fled the captain. He's retained 7.4% selection in Fantasy Premier League despite the total lack of playtime. Taylor sits with 2.4% selection. That either have retained ownership is remarkable given the paucity of cleansheets – one in seven tries this term. Davide Santon has played in every BPL fixture with six full 90′ in seven. He is also priced £5.0 and is 1.7% selected.
Our pick are the above mentioned James Perch and Davide Santon. Perch has the lowest price, £4.5m, and the least selected, 0.4%, with five full 90′ appearances including four on the bounce. Perch has created four chances this term,
which is second among Magpies defenders to Santon (six). He and Santon are level on 21 final third entries while Perch is the only defender who's generated a thru-ball. As they've scrambled to stay solid at the back, there has not been much adventure down the flanks. Santon leads the defenders with 16 crosses — just one accurate cross — and Perch is 0/4 on his attempts.
Vurnon Anita has been playing left-back. He is rated a midfielders in Fantasy Premier League and fantasy EPL players who read this site know we dislike playing out-of-position players when they're shifted further to the rear. Anita may retain his potion but we feel the first-choice line will be more accurately reflected if we anticipate Santon on the left and Perch to the right (or vice-versa) with Coloccini and Taylor in the middle. Without any other indication, fantasy EPL managers may want to wait until after the first match to see if Perch remains in  Pardew's chosen line but purchasing Santon should not be complicated by rotation.
Enjoy this fantasy EPL breakdown? Read Santi Cazorla and James Morrison. For more fantasy EPL news, information and analysis follow @FantasyGaffer and check back to the site daily.