EPL Fantasy value is a fickle mistress…is that trite enough? Form is impossible to predict? This Tweet made us think about the role of form — as indicated not by observation but analytic examination of the underlying stats — and when we need to take a step back from even our favourite players:
@fantasygaffer Pienaar or Ben Arfa who do you think will be best next 6 GW's ?

— Steve Pardoe (@PardoeSteve) October 8, 2012
Now the simple, and in our opinion correct, answer to this question is Pienaar. He has created 20 chances to Ben Arfa's nine and is priced (£6.8m) far below HBA's £7.9m. But, once we looked at the numbers, we realized it is more than that. There is a feeling that owning Pienaar makes more sense and that feeling is verifiable in the numbers. Pienaar is on the come. Over the past four gameweeks the Toffees midfielder has create four, four, two and six chances. Those 16 chances created would, on their own, rank him level-ninth with Yaya Toure and Eden Hazard. Trending the other direction, Ben Arfa has created only one chance in the Magpie's last three BPL fixtures. EPL fantasy managers who benefited from his early form should note that HBA has created only three chances in the four matches since he posted four chances created (and eight FPL points) against Aston Villa in GW3. Ben Arfa had 21 FPL points in the opening three gameweeks but 14 in the last four gameweeks.
Adel Taarabt is a FantasyGaffer favourite. We've touted buying him to start each of the past two seasons and we've been disappointed both years. The Moroccan is a sublime talent but has not been able to keep his place in the starting XI. 215′ this term, with 35′ and 90′ coming in the past two matches after failing to play in four on the bounce:
"I thought Adel was excellent for us," manager Mark Hughes told www.qpr.co.uk "He came back against West Ham and performed really well from the bench, so he fully-merited his place in the starting line-up on Saturday. "He was one of the few bright sparks for us, along with Ryan Nelsen who I thought was absolutely outstanding." Taarabt made it two stunning goals in as many games on Saturday, and his efforts at West Brom have earned the praise of Hughes. The Moroccan followed up on his 25-yard strike against West Ham on Monday by netting a sensational volley at the Hawthorns to get QPR back into the game just before the interval after the Baggies had stormed into a two-goal lead.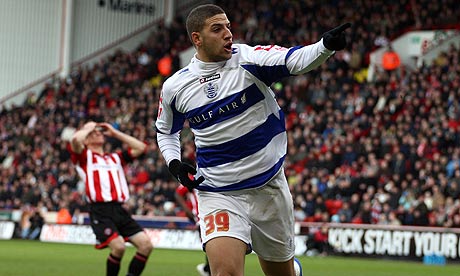 Taarabt is £5.5m and 1.1% selected in EPL fantasy Official ("FPL") and has already equaled his 2011-12 tally with two goals. Taarabt earned 2003′ last term, contributing four assists along the way and posting an unremarkable 86 FPL points. We're not sold on the enigmatic winger for EPL fantasy at this point, but remain steadfast in our belief of his talent on the pitch. In Rangers' midfield is another player we've touted: Ji-Sung Park. Park has been Mark Hughes most consistent player. He is the only QPR player to have started each of their seven BPL fixtures this term and leads the squad in tackles (winning 18/27), passes completed/attempted (263/307), total chances created(13) and is third on the club with 12 dribbles attempted. We haven't covered Esteban Granero — though we do discuss Gaston Ramirez in News & Notes – and he could overtake Park as the most valuable, from a statistics standpoint, provided they earn equal playing time.
One midfielder who's been sold-off as though he were under-achieving is Manchester City's David Silva and Silva simply requires patience to see his on-field play translate into EPL fantasy success. This is the same tact we took during gameweeks 2-6 when Gareth Bale was experiencing net transfers out. -98593 net transfers led into the GW4 performance which netted 11 FPL points. Only 6635 net transfers in followed and he posted another eight points. A further -7941 net transfers ahead of his GW6 thrashing of Manchester United's rear-guard with 16 FPL points was required to see a positive influx of any magnitude. His price had dropped as low as £9.3, but is rebounding and could soon exceed his opening price of £9.5m. As OptaJoe points out, Bale is continuing to evolve his game:
12 – Gareth Bale has fired in more shots on target than any other player in the Premier League this season. Evolving. — OptaJoe (@OptaJoe) October 9, 2012
We're still buying and starting Bale (and his teammate Aaron Lennon) and would advice EPL fantasy managers take advantage of Silva's owership drop – six gamewees on the bounce and counting. The Spainish international is down to £9.6m and 6.9% selected while posting the third-most chances of any player in the BPL:
#FPL Impact: Thru GW 7 four #BPL players have created 20+ chances: Pienaar (20), David Silva (21), Cazorla (26) & Baines (30 |@eplindex

— FantasyGaffer (@FantasyGaffer) October 7, 2012
The other three players on that list enjoy far greater selection. Santi £9.3m, 16.7% selected; Pienaar £6.8m, 14.7% selected; Baines £7.4m, 22.2% . Silva will not remain under 7% selected once his chances start to fall, and he remains capable of recreating last season's six goal, 17 assist haul despite being far off the pace without a goal and only two assists at the moment.
As we like to say around here -if you do not follow us on Twitter (@FantasyGaffer), you're dead to us. It's not polite, or memorable, but we say it just the same. We're good at handing out EPL fantasy advice, poor at creating slogans.