Fantasy Premier League managers your long wait is over. Last Minute Tinkers is here to address all of your needs. It's a short one this week. We've written at length about the Champions League here and here and the injury news for the week seems set, with few impact players – from a fantasy premier league standpoint – due to undergo late fitness tests. Onward with part 2/2.
Wigan v Fulham
Dimitar Berbatov lived up our hype with a brace in his first start with Martin Jol's side. Beratov will look to build on his already impressive resume with the Cottagers when they travel to Wigan. The Latics have scored four and allowed eight, including four goals at home where they have failed to win in two attempts. Fulham will be getting back Bryan Ruiz and will be without Diarra. Jol said "It could be the next couple of games…it could be longer" in relation to a knee injury the midfielder suffered while on international duty with Mali. This is good news for Kacaniklic owners as it limits the number of competitors for a midfield place, but significantly diminishes the prospect of keeping a cleansheet.
That said, we're still invest in the Cottagers defenders Hangeland and Hughes as low cost options with a friendly set of fixtures and the ability to keep a cleansheet every other match. Low cost, low risk, but also low ceiling as neither present much in the way of attacking value.
For the Latics, we like Shaun Maloney (£5.0m, 1.4% selected; 1 goal 1 assist with 16 FPL pts) and have come to accept that Franco Di Santo will score goals. Di Santo has scored two goals in 300′ this term after scoring seven goals 2025′. We're not counting on more than seven goals the rest of the way and, for the money, we would prefer to have any of the other forwards in a similar price range – Vaz Te, Lambert or Pogrebnyak.
Liverpool v Manchester United
All eyes will be on Anfield for Liverpool's first home match following the release of the findings over the Hillsborough disaster. Sir Alex Ferguson has written and spoken about the day, trying to put into context the mass of emotions certain to present in every person in attendance:
Ferguson admitted he could not discount the emotion having a negative effect on his players. Liverpool intend to mark the occasion with a number of significant gestures, including a mosaic across three sides of the stadium.
And having gone through something very similar four years ago on the 50th anniversary of the Munich air disaster, the Red Devils boss accepts it may have a hidden impact. 'It's a possibility, I don't deny that,' Ferguson said. 'Human nature can be that way. When we played Manchester City for the 50th anniversary of Munich the place was so flat in the dressing room before the game. I even felt it myself. We just couldn't perform and were glad to get it out the way. It was such an emotional day for us and it could be that way on Sunday.'
The home side had the benefit of resting their entire first-choice starting XI when they traveled to play Young Boys in the
Europa League on Thursday. We did not learn much from that game except that Jonjo Shelvey can boss inferior opposition a bit. Luis Suarez is getting scads of chances but failing to score much. If you've seen him sky one only to later hit the woodwork, we understand the desire to shed the Uruguayan from your squad. However, he has received the bulk of Liverpool's scoring chances, clear-cut chances and remains a vital cog in the offense. Suarez is able to create chances, and should he discover his finishing edge he would instantly become one of the three most valuable forwards in Fantasy Premier League.
We've covered United a bit in the Champions League Recap, and we expect that Robin van Persie will be taking the penalties from this point forward. Nani earned a start in the Champions League midweek and a second consecutive Premier League start would warrant adding the Portuguese playmaker for gameweek 6. His price has fallen steeply, down to £8.6m and he is selected in only 3.0% of Fantasy Premier League side. This for a player who has recorded 17 goals and 30 assists over the past two campaigns.
Newcastle v Norwich
35 – Norwich City have failed to keep a clean sheet in their last 35 Premier League away games. Cleaners. — Opta(@OptaJoe) September 21, 2012
Start Demba Ba. Ba hit a second half hat-trick after being introduced for the final 45′ v Everton in gameweek 4.
Start Hatem Ben Arfa. HBA has been an offensive force whenever he has stepped on the pitch and now that he is playing regularly he is dominant. The winger has created eight chances, five from open play and three from set pieces. He has embarked on 27 dribbles and completed a staggering 56% of them! (Hat tip to EPL Index for the opta data). He should be owned in far more sides than the 13.7% in which he is currently selected. His Fantasy Premier League price (£7.8m) will continue to rise and he will continue to produce.
Coloccini, Simpson and Ryan Taylor are still out – as is Tim Krul – though James Perch may be fit to start. Norwich have capable attacking options and the Magpies do not look as assured at the back this season. We're investing in the cost options to increase our stakes elsewhere, but this match has the feeling of a 4-2 home victory and we're avoiding defenders at all costs.
A 4-2 match would, naturally, see the Canaries score twice. Anthony Pilkington missed their last match and they have scored just two goals this term. We're leaning on Grant Holt (9 chances created, one assist) Robert Snodgrass (eight chances created, three from set plays) and Pilkington (eight chances created, one assist) to put pressure on Alan Pardew's back line. Pilkington may miss out, so for the same £5.9m fantasy EPL managers can invest in Snodgrass. Holt's £6.2m price tag leaves much to be desired, but he should be able to score in this one.
Manchester City v Arsenal
Manchester City will be without Samir Nasri. This is not much of an issue as Kun Aguero is back fit, Eden Dzeko has been sparkling off of the bench and both David Silva (9) and Yaya Toure (11) are providing enough creative production to offset the absence of Nasri (12 chances created) from the starting XI.  We have spoken at length about removing all of the Citizens from your defensive ranks and this match with the Gunners should not be seen as the day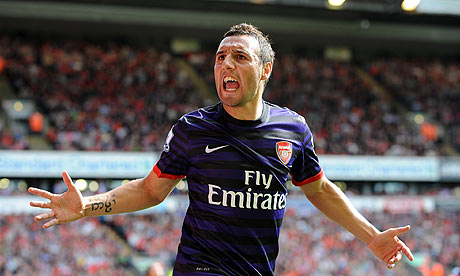 where they break their defensive duck. Start Tevez with confidence, watch Aguero for fitness, trust in Yaya storming through the center of the pitch and leave the defensive midfielder off your squad.
The same can be said of Arsene Wenger's side. We still start Santi Cazorla, confident in his ability and City's defensive lapses. Lukas Podolski will slowly shift into position as the fulcrum of the Gunners attack and we're ignoring the rest. If either Gervinho or Theo Walcott can solidify minutes in the attacking role opposite Cazorla, we're happy to invest but to play the guessing game with Wenger each gameweek is a not worth the potential reward. We won't sell discount options like Vito Mannone, Carl Jenkinson or Per Mertesacker, but we're not giving them the start in this match.
Tottenham v QPR
We know it must come off as unkind, but we can not understand why Fantasy Premier League managers have invested a groat in Queens Park Rangers. This is a side that has no identity, has brought in nearly a full squads worth of player in the past two summers and is looking at lining up opposite a rejuvenated Spurs side with several of their defensive starters:
QPR will be without Anton Ferdinand, Fabio Da Silva and Armand Traore at Tottenham this weekend, with playmaker Adel Taraabt also a doubt.
That is via ESPN, and we've quoted damn near the whole article because it would be ripe for parody were it not so bloody depressing:
Manager Mark Hughes said he would "have to move people around" to deal with the defensive crisis as he looks to build on the encouraging point won at home to Chelsea last weekend.  "We've got a number of injuries at the back," Hughes said. "Anton Ferdinand is not going to be involved. Fabio isn't available – he'll be out for a number of weeks. To compound that, Armand Traore is not available either. We're going to have to move people around to accommodate for that. Adel Taraabt didn't complete the training session today, so we'll have to check him tomorrow. He felt a little bit of tightness so he may not be available tomorrow." Meanwhile, new signing Stephane Mbia may have to wait for his debut after Hughes revealed that he was unlikely to feature at White Hart Lane.
Just to check that once again; Anton Ferdinand (33'6) and Fabio (289′) have the most minutes played of any Ranger's defenders this season while Traore has seen only 70′ this term.  If we had any faith in their ability to secure a clean sheet against Tottenham we'd be rushing to purchase the presumptive back line of Onuoha (£4.4m), Bosingwa (£5.0m), Nelsen (£3.9m) and Hill (£4.4m). Luke Young and Michael Harriman have not got a minute of Barclays Premier League action between them this season but could be drafted into Hughes' starting XI.
Please invest in Ji-Sung Park if there is a spot on your roster. The former Man Utd. midfielder has created 11 chances and is priced £5.7m. All of his chances created have come from open play and when Ranger's forwards start to find the net, we expect that Park will provide the incisive pass.
On the other side of the ball, we like all of the Spurs starting attacker. At this point be believe that runs: Sandro, Dembele; Bale Dempsey Lennon; Defoe. With the rotation of Dempsey and Gylfi, we're not comfortable owning them but Bale is certainly worth owning despite the decreased FPL ownership. Bale is sixth in the Premier League this term with 11 chances created.  We would vastly prefer that Adebayor was the forward, but until his 'muscle injury' clears itself up and he is fit to challenge Defoe for the loan striker role, he should not be owned.
We're expecting that Kyle Naughton is passed fit and play in this match. He is priced £4.4m and should directly benefit from the absence of Benoit Assou-Ekotto. The prognosis for BA-E is pending but we expect Naughton has at least three gameweeks of guaranteed starts with those matches coming against QPR, Man Utd and Aston Villa. Hugo Lloris started the Europa League encounter but we're expecting Brad Friedel back between the sticks in the Premier League. The Independent has Lloris vowing to "shake things up" but it will take a loss of form from Friedel to see him replaced:
The Portuguese gave the American the night off last night, allowing Lloris a chance to impress and the 25-year-old performed well, keeping a clean sheet in the 0-0 Europa League stalemate against Lazio. Spurs boss Villas-Boas is now in the unenviable position of having to decide whether to drop Lloris back to the bench or cut Friedel's run of 308 consecutive Barclays Premier League matches short by sticking with the France stopper.
Should Lloris take the #1 shirt he would be a less attractive Fantasy Premier League option than the American as he is priced higher at £6.0m.
Part 1: Available HERE.
For up to date Fantasy Premier League analysis please follow us @FantasyGaffer, email fantasygaffer@gmail.com and check back to the site for updates every weekday. Tweet